Le Festibière de Lévis: Travel into your beer 🍺 🗺
On the menu : the art of travelling and tasting, activities to escape your routine & festive ambiance for the 5th anniversary of Levis' edition.
ACTIVITIES & ENTERTAINMENT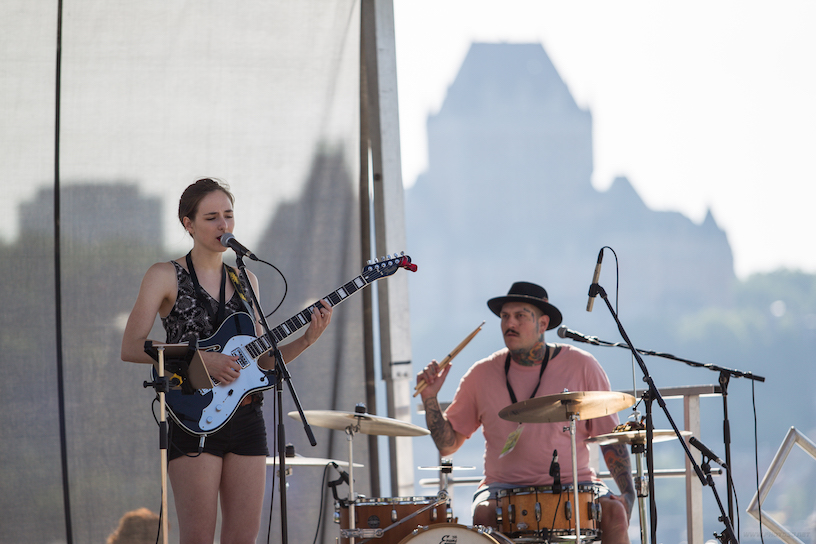 Music
We planned some shows to make you travel through music 🎶
Discover the schedule and the artists here!
Casks & special kegs
5 kegs & 5 exclusive products openings includins casks for the 5th anniversary of Festibière de Lévis ⚒ Come and have a taste of amazing and unique products with commentary from the beerologist Nathalie Coursin. 
🗓 THURSDAY
5:15PM | Keg Opening | Jackalhop | Rassellbock
7:15PM | Cask Opening | Beauregard | Maple Imperial Stout
🗓 FRIDAY
1PM | Keg Opening | Ras l'bock | Barbe Bière
2PM | Keg Opening| La Mouche | Pompier
4:15PM | Cask Opening | Hopera | Pup Tart Jaune & peppers
6:30PM | Special Opening | Robin Bière Naturelle | Saison du Coteau Bonheur
🗓 SATURDAY
12PM | Keg Opening | La Fosse | Mojito
1PM | Keg Opening | Nano Cinco | Grisette Hersbrucker
4PM | Cask Opening | Riverbend | La Palé Alé
🗓 SUNDAY
12:45PM | Special Opening | Maltstrom | 3 barrel-aged products
Let's meet at the Je bois local Bar to discover all those products!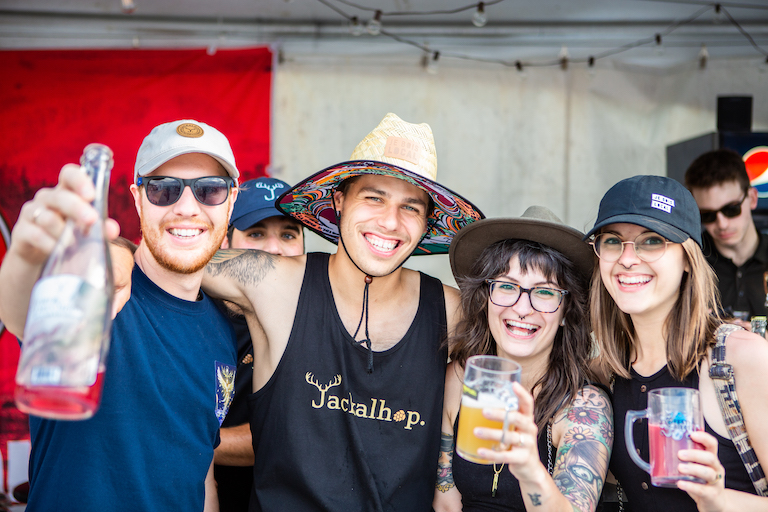 Treasure Hunt
Be a part of our fifth anniversay treasure hunt! Learn more about the microbreweries at Festibière de Lévis through the puzzles and you may win a travelling-inspired treasure👇
PRIZE: A whale cruise with Saint-Laurent VIP lounge access offered by Croisières AML
🐳 Departure from Baie-Sainte-Catherine or Tadoussac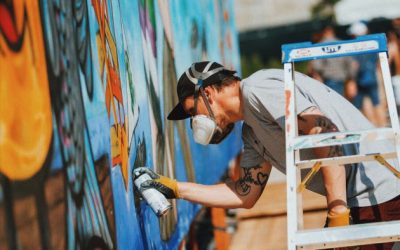 Artsty Roadtrip
---
Art makes you travel! That will be even more true when the artists from Lucysky Studios will have painted an entire car with their creativity. Why paint on a canvas when you can paint a car? Watch their progress live 👇
Thursday | 4PM to 7PM
Friday | 2PM to 5PM
Saturday | 2Pm to 5PM
Sunday | 2Pm to 5PM
Thanks to LKQ for the car instead of canvas for the artists!
Body Art
Keep a souvenir from your trip to Festibière! Whether a spontaneous decision or a planned-out idea, get a tattoo by the Displace Studio team in their specially-converted minibus! 🚍
🎉 Anniversary Tattoo: Stay tuned for the official Festibière de Lévis tattoo!
*Be sure to have another payment method than tokens. 
Beer Museum
Recognize your favorite breweries' designs on our giant mural! On top of being a perfect way to travel through the art of brewing, this work of art from Lucysky Studios is a nice instagrammable environment for a souvenir picture of you and your friends!
SILENT DISCO
PROMUTUEL INSURANCE
That's my song! Put on your headphones and dance like the world is ending! Rock, Pop, Électro, Country, let's go crazy at the Promutuel Insurance Silent Disco.
5 years ought to be celebrated with dancing! Celebrate with us during our live DJs' performances (schedule below)

Doesn't dancing make you hungry? Promutuel Insurance offers free popcorn next to the Silent Disco

🍿

Get ready with disco make-up under the Silent Disco's tent

✨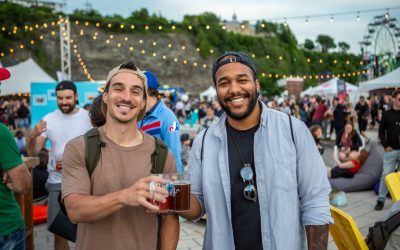 Travel memento
Thanks to Les Prétentieux's Photobooth, you'll get the chance to bring back a souvenir from Festibière home! Bring your friends in our decor and have fun making poses 📸 Nice addition to your travelling pictures!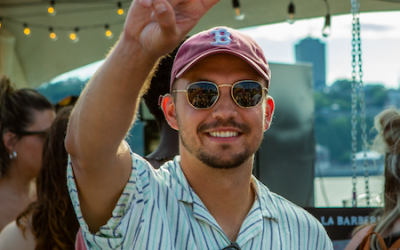 Always with my glasses on
Going on an adventure without your glasses…that's no luck 👓 Don't worry, Les Yeuxtistes have a giant pair of glasses at Le Festibière! Come take a look at their giant distorting glasses. Laughing garanteed!
Blind Tasting
Analyse taste, smell, texture, and try to guess what's in your glass. Don't you worry, our beerologist will be there to guide you through this blind quest.
Friday | 3PM
Saturday | 2:30PM
Sunday | 3PM
Let's meet at the Je bois local Bar with our beer tasting expert Nathalie Coursin!
Let's fly to Levis
Come take a well-deserved break on the Ville de Lévis' swing set. The perfect spot to relax with friends and take in the view with a beer in hand!
« Beer Pairing »
How to perfectly pair your beer? Le Festibière is here to help! We offer the beer pairings to complement the specialties of our foodtrucks.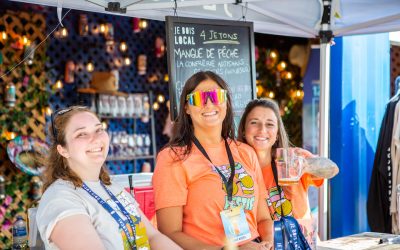 Je bois local Itinerary
Je bois local wants to put you in the mood for camping through your beer! Discover our thematic recommendations within our exhibitors (ex: Belgians, Italian Pilsners, Mexican Lagers, etc).
SCHEDULE | SILENT DISCO
Promutuel Insurance's Silent Disco: 4 days & 6 live performances with 3 DJs to get you in the mood 🕺
Thursday June 29
DJ Shieldie | 7:30PM to 10PM | Silent Disco
Friday June 30
DJ ENC |1PM to 4PM | Silent Disco
DJ Shieldie |7:30 to 10PM | Silent Disco
Saturday July 1rst
DJ ENC |1PM to 4PM | Silent Disco
New Bleach (DJ set) | 7:30PM to 10PM | Silent Disco
Sunday July 2
DJ ENC |1PM to 4PM | Silent Disco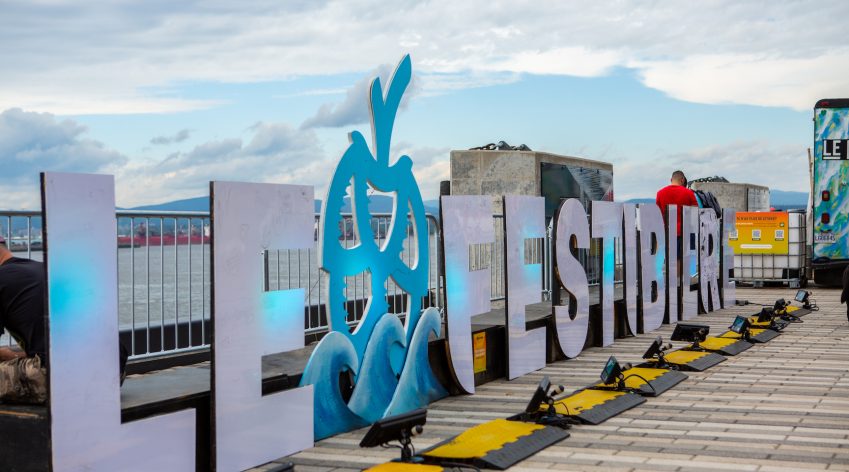 Massive Collective Art
Leave your mark at Le Festibière! You will find on the site giant letters forming the word "FESTIBIÈRE" which will become a massive piece of collective art, thanks to all our festival-goers. Be creative! 🎨
Wheel of Knowledge
Do you know everything there is to know about alcohol consumption? Test your knowledge with Educ'Alcool's wheel and you may win prizes!💡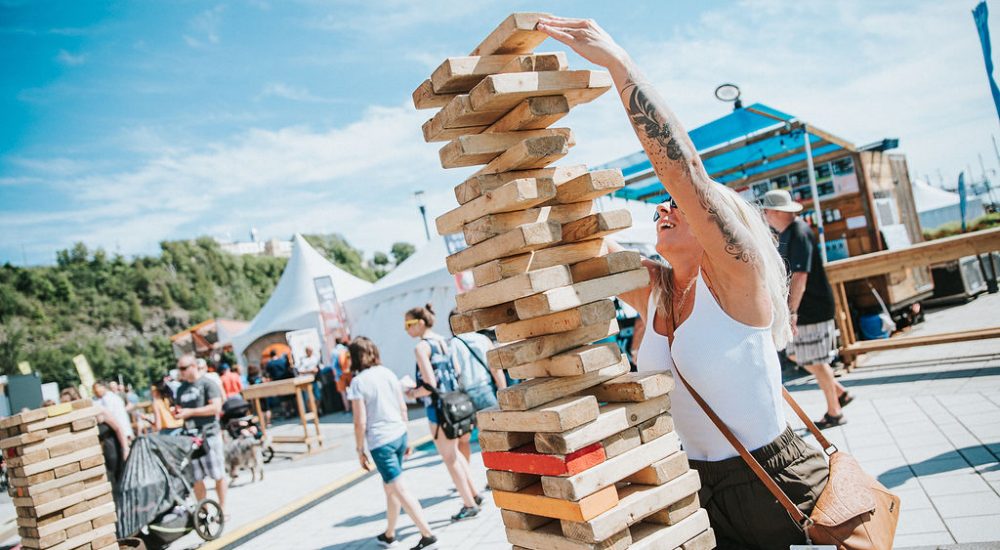 Giant Jenga
Your worst enemy : Gravity! Your mission : Stack all the wooden blocs and take them out without destabilizing the tower. PS: Retrieve the "Encanette" bloc and have the chance to win the contest!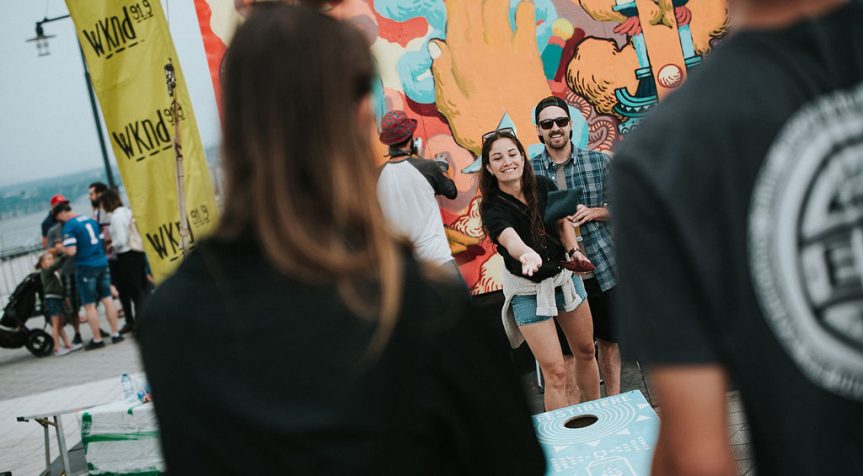 Cornhole
Beer and bean bags come hand in hand at Le Festibière! Whether you play with your family, your friends, or your colleagues, lots of fun on the horizon!
Guess Who?
*NEW* Do you know the game Guess Who? Well we created a giant version for our fifth anniversary! Challenge your friends to recognize important figures on the brewing community.
"AFTER PARTY"
The party must go on! Je bois local suggests you end your evening at La Cour arrière du Festibière de Lévis!
Discover or re-discover these must-see at Lévis : New water basin, two-level patio, incredible sunsets & Wild Crush as of 7:30PM on stage! Special promos :
15% off provided you show your official glass from Lévis from 7PM until 11PM
Free pint with your Je bois local Passport