Le Festibière de Lévis: the art of tasting
Don't miss the South Shore's artistic and brewing event! On the program: musical performances, activities, tastings, games & festive atmosphere 🍺  🌊
THURSDAY, JUNE 30
Lévisienne Evening! We honor the artists of Lévis
Fesse toute

: 

Wild Crush: 
Kingdom Street: 
FRIDAY, JULY 1
Don't miss the electro pop day!
SATURDAY, JULY 2
If you're a fan of acoustic and country music, you'll be treated to a musical evening on Saturday!
Maude Carrier: 

14h30 

Style: Cover band pop
Thierry Gomez: 

17h00

Style: Cover-band pop
Artiste à venir en collaboration avec le Vieux Bureau de Poste! Dévoilement le 19 juin prochain!
SUNDAY, JULY 3
Sunday's party will feature a catchy summer pop atmosphere for all to enjoy!
Blueberry Sunday: 

12h30

Style: Indé alternatif

Fuso en trio: 
We drill casks
Every day, an exclusive cask will be tapped and commented by the Je bois local team at their booth. This is your chance to discover exclusive products!
Stay tuned to find out the opening hours and the products to taste 👀
IGA Food & Beer Pairing
Come meet the IGA team and taste exclusive products in a food and beer pairing formula!
Exclusive barrels
at the Festibière Beertruck
Every day, a new barrel will be opened exclusively and made available on the local Beetruck line at the Festibière.
« Beer Pairing »
How to perfectly match food and beer! Thanks to the gourmet texts that will be personalized, you will be able to choose a style of beer in harmony with the food specialty of each of our restaurant owners!
Collective work
Leave your mark at the Festibière! You will find on the site the giant letters forming the word "FESTIBIÈRE" which will become a huge collective work of art thanks to the personal touch of all our festivalgoers. Don't hesitate to share your creativity 🎨
Painting a mural
live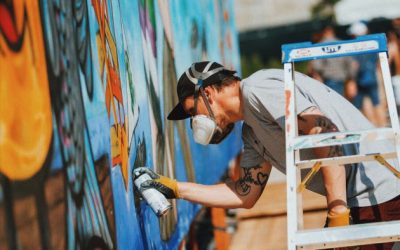 Come and admire a local artist painting live on the I Drink Local container! Surf on the wave of thirst and follow the evolution of the fresco from one Festibière to another, all summer long!
In body art mode
Get a tattoo at the Festibière!  Yes, whether it's for a whim or a specific idea, the experienced tattoo artists at Displace Studio will be able to do it for you without any problem. Look for the minibus specially equipped as a tattoo studio to get a permanent souvenir of the Festibière. 🕺
Promutuel Assurance has thought of you! We are waiting for you at the Festibière de Lévis with entertainment and many surprises.
Come and test your mini golf and Finnish bowling skills or have fun against your friends at the Puissance 4 game. It's also the occasion to relax by drinking a good beer on one of the adirondack chairs in the relaxation zone facing the river or to take a picture on the giant Promutuel chair!
Pssst, there's unlimited popcorn!

Giant Jenga
Your worst enemy in this game: gravity!
Your challenge: stack all the wooden blocks and remove them one by one before everything collapses. The festival-goer who is the most skilled at being the last to remove a block without the whole thing collapsing will be the big winner of the game! P.S. Make sure your opponent has a full glass so they don't use both hands!
Mega Twister
The ultimate family and party game! Whether there are 2 or 10 of you, you can have fun simultaneously with this game! Just turn the wheel to see which body part you get to move. Be careful not to fall, or you will be eliminated!
Handheld games
The classic party game! Do you like to have fun with handheld games? Whether with family, friends or colleagues, it's guaranteed fun! For adults and children alike.
Laser tag
*New* The Laser Game Evolution is the perfect marriage between a 100% laser precision game and an inflatable game. What more could you ask for!  It's even possible to play in daylight, come and face your best enemy!
The PARTY continues! With our friends from Je bois local, we propose you to finish your evening at some microbreweries around Levis and take advantage of their great promotions for the occasion.
Promotions & discounts here👇
Le Corsaire
Free pint while claiming with your Passeport Je bois local
La Cour arrière du Festibière de Lévis
Free pint while claiming with your Passeport Je bois local
Pssst… the same promo also applies to la Cour arrière du Festibière de Québec.🍺